Happy New Year!
So the rescheduled exam date has come around – IT'S TODAY and starts 18:00…
I'm currently typing this up Thursday 11th AM, it's about 11:00 so that's T -420 minutes. I think I am as nervous for the people taking their exams today as I was when I was about to sit mine…
There are three people sitting the Foundation exam and the same three people plus one other (that makes four, I'm clever eh) sitting the Intermediate exam.
I wish them all the very best of luck, it will be absolutely fantastic to have some new activity locally on 2m & 70cm (hopefully) and I hope that the enthusiasm that they will have to try everything is as contagious as possible.
It's now Friday 12th, So time for the post exam round up… very easy…
THEY ALL PASSED! 🙂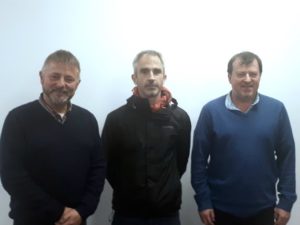 above, left to right… Bob (GU4YOX) Rémy (2U0???) Mike (GU4EON) – Bob & Mike were the exam invigilators and Rémy was my first as an RSGB Registered Assessor to go through. I now have one possibly two more people to put through their paces – hopefully more to come after them too…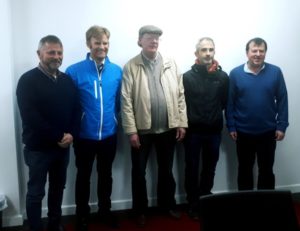 above, left to right… Bob, James, Peter, Rémy & Mike (Simon (MU6WZY) was unavailable for the pic unfortunately) – James, Peter & Rémy all passed their Foundation & Intermediates today and Simon his Intermediate! 🙂
APOLOGIES FOR THE SHOCKINGLY POOR PHOTOGRAPHS – my bad!
Post exams there was a nice bit of friendly banter between Rémy & James about challenging each other to complete the Full exam this year too… Now comes the incredibly long wait of approx 9 days until they receive their Certificates and it's filed with Ofcom, so that they can obtain their calls….. and then GET ON AIR! – I say long, but 9 days isn't long really, it just feels like it 🙂
Thanks to Bob & Mike for giving their time again today and to Tom (2U0TKB) for the same & the access/provision of the exam centre.