This is probably more of a personal post than a radio post but there is radio in it….
Being self employed for the past 15 years has never made it easy getting away – we started taking long weekends on a nearby island called Herm (a 20 minute trip by boat from Guernsey) – Its beautiful place, no cars, no TV, sandy beaches, cliff walks.. it has one Hotel and a couple of campsites – I'm not a camper! so we have always stayed at the Hotel, half board.
Now, being veggies food is always an issue but at the White House Hotel they do a set evening meal which always has an an amazing veggie option, I cant say I've always liked it but to be fair I do more often than not ! I like that at least the chef makes a creative effort and doesn't just throw a risotto together or mushroom stroganoff or worse still a bloody pasta dish… all of which I see as cop outs for a chef that has no creative fire to conjure up a well thought out dish that's tasty and interesting treat for us vegetarians.
July last year I had my first two week holiday away from the island and we had a great time – glamping in Brittany (France) at a great site where the kids ran wild and mummy and daddy drank beer, plus daddy revised for his Full exam 🙂
This year, with limited funds we had planned a long weekend in Alderney but it was going to cost about £250 just to get there and back so decided instead to put that £250 towards a long weekend in Herm – its not a cheap place to stay but it really is a relaxing break, three days feels like six so worth the money…. So, that's where we were going for two nights / three days… lovely!!
Before hand we made a bit more of the holiday by having lunch out the day before we were due to go to Herm and also a rib (fast rubber inflatable boat) trip in the afternoon around Herm too… hoping to see dolphins…. everyone else had seen them…. nope, we didn't 🙁 HOWEVER we did see a few grey seals bobbing their heads above the water amongst the rocks north of Herm… just as amazing to see them 🙂
When I sold my motorbike I bought an IC-7300 but I also bought an FT857D mainly to create my full duplex sat station however also for some /P working – ooh, a bit of /P in Herm may be? 🙂
My wife is VERY understanding…. she accepted that the break was for all of us to do a bit of what we liked so I started planning getting the 857 out of it's box for the first time and to make a 40m/20m LINKED dipole specifically for the trip and to work 40m for a couple of hours (I don't have 40m at home because of so many trees around the house which I hope to rectify this winter). I built a 1:1 choke (the featured image) which I was told I didn't need to do and the toroid was wrong too (T200-2) but sod it, hopefully the RF stayed in the dipole 🙂 Then tested it in the garden…. got a 57 from Switzerland with a really poor stringing of the antenna so was chuffed with that, thanks Andy, HB9CVQ
I came across various problems… #1 was bloody hell its a lot of stuff and it's heavy too – I haven't a fancy LiPo battery that's small and light, I have an old motorcycle battery… it's heavy… the wire I used for the dipole wasn't thin either and I used RG58 to feed it, again a heavy coil – also because the wire was only quickly thrown together and very briefly tuned with an old MFJ antenna analyser I took a SWR meter to ensure I want doing anything silly – I don't trust the inbuilt ones on these little radios..
So, we left on the Saturday morning… leaving work behind and heading across to the island that could just as easily be 1000 miles away…
I say 'we' but in actual fact after I dropped the three of them at the boat by the time I had got there their boat was full and already underway, good job there was a second immediately after… so my trip to Herm was peaceful… and it was nice to be greeted by my wife and children on the quay in Herm…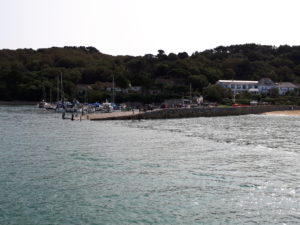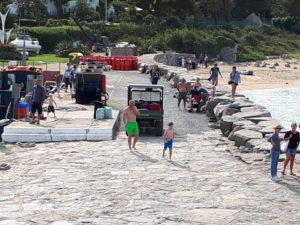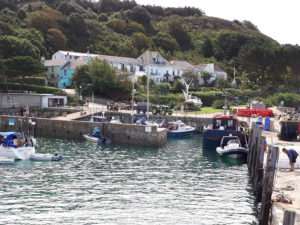 The girls immediately wanted to go swimming, jumping off the inner harbour wall… it may look nice and warm but in my opinion it was far to bloody cold for this malarkey – kids eh 😉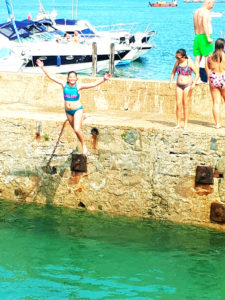 High tea for the kids was at about 17:30/18:00 and whilst they ate, mummy and daddy had a beer… we got them back to the room and settled them in with their tablet devices and we went off for a lovely four course supper… it was very nice!!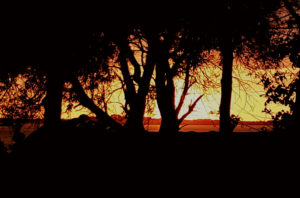 Sunday came (and breakfast – I love a cooked breakfast)…, a bit of fun jumping in the sea again for the girls and daddy went off about 11:00 ish (local) to set up and play some radio…. I strung out the dipole in the only place I could, out of the way of everyone my vista was looking back towards Guernsey (see below)…. the antenna wasn't up very high and it was in a hedge, one end about 2′ (0.6m) off the ground and the other about 8′ (2.4m) – I called a couple of people, no response and was very disheartened and then just called CQ for a few minutes, I didnt have to wait long and then bish, bash, bosh – had some great contacts in to the UK and some really lovely QSO's they were too – no 59 /QRZ for me eh!
I packed up about 14:30 local as the battery was flat (its knackered so doesn't last long) and we all had some lunch – I really enjoyed playing radio in Herm even if it was a bloody faff… I've now acquired a spiderbeam 40′ (12m) pole (Thanks Remy) so next time I'll try using it to support the dipole – it's even more weight to carry but a much better erection will be had 😉
The view from my operating position…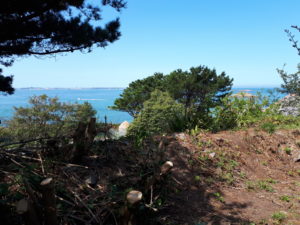 the 857 and in the hedge.. the wire, if you squint you can just see it…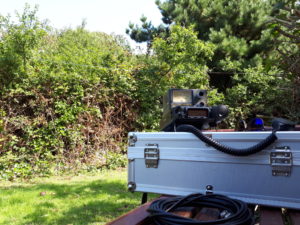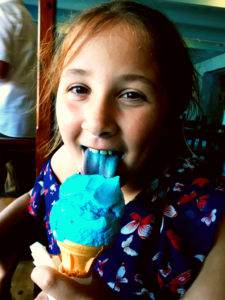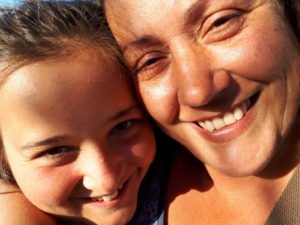 Good bye Herm, we had a great time – I'll be back to play with radios and antennas again that's for sure…